$30.93

|

$38.93

$30.93

|

$38.93
DIY Hot-Fix Applicator
Don't waste your time with irons!  The DIY Hot-Fix Applicator wand makes precision crystal application a snap!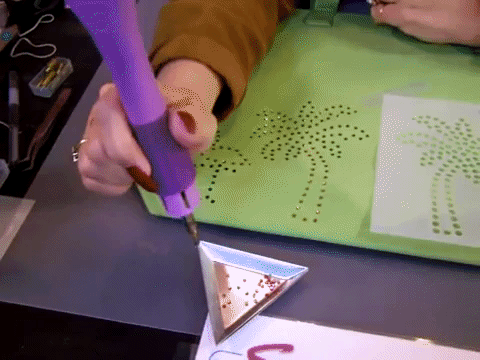 This professional model features: A short nozzle to allow the ultimate precision placement. Universal voltage for use with either 110 or 220 volts (adapter plug not included.) Rhinestone tips in 2mm, 3mm, 5mm, 7mm, 9mm sizes are etched on each piece for easy identification. Hot Spot (flat) tip for applying all other size/shape hot-fix embellishments. Support stand holds tool firmly. Includes an insert with detailed directions. 
FEATURES:
It has a  soft ergonomic handle that maximizes productivity while preventing operator fatigue and discomfort. Integrated lit on and off switch - no need to plug and unplug.
Easy to use a metal holder and extra-long 4.6ft electric cord. Easily applies rhinestones to clothing, purses, cell phones, belts, dolls, scrapbooks and more.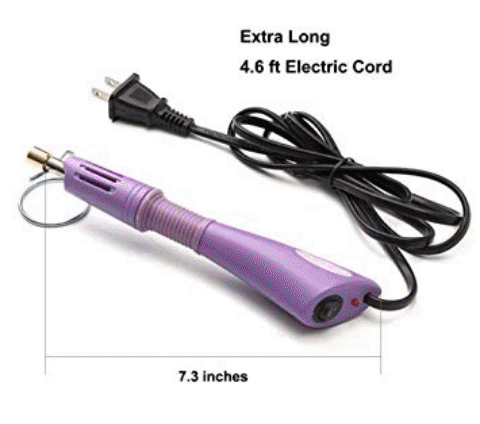 Fast heat up time and quality made. Complete with a Safety Stand and 7 Different Applicator Tips for applying different sized Hot Fix Crystals. 
DIY Hot-Fix Applicator
Description

DIY Hot-Fix Applicator

Don't waste your time with irons!  The DIY Hot-Fix Applicator wand makes precision crystal application a snap!

This professional model features: A short nozzle to allow the ultimate precision placement. Universal voltage for use with either 110 or 220 volts (adapter plug not included.) Rhinestone tips in 2mm, 3mm, 5mm, 7mm, 9mm sizes are etched on each piece for easy identification. Hot Spot (flat) tip for applying all other size/shape hot-fix embellishments. Support stand holds tool firmly. Includes an insert with detailed directions. 

FEATURES:

It has a  soft ergonomic handle that maximizes productivity while preventing operator fatigue and discomfort. Integrated lit on and off switch - no need to plug and unplug.

Easy to use a metal holder and extra-long 4.6ft electric cord. Easily applies rhinestones to clothing, purses, cell phones, belts, dolls, scrapbooks and more.

Fast heat up time and quality made. Complete with a Safety Stand and 7 Different Applicator Tips for applying different sized Hot Fix Crystals. 

 

Reviews