$23.99

|

$49.95

$33.99

|

$69.95

$43.99

|

$79.95

$35.99

|

$59.95

$35.99

|

$79.95

$45.99

|

$77.99
These capsules are reusable, eco-friendly and compatible with Nespresso® coffee machines. 
Don't think twice! Save money and help take care of the planet!

You will be surprised how good and creamy the coffee is!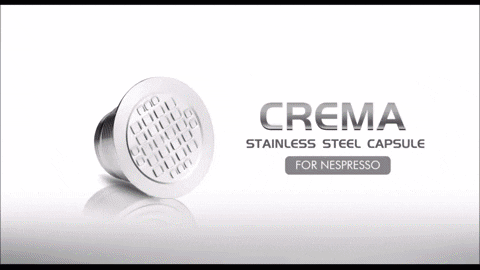 *This capsule is Compatible with Nespresso Coffee Machine after 2010, but it isn't compatible for Dolce Gusto / Nespresso C150 / Nespresso Business.
How to use
*It's important to use them with the correct amount of coffee (about 6 to 7g, (5g/spoon) and also pay attention to grind which can neither be too coarse nor too fine. Please try a few times to finally find the correct one .
Reusable Capsules
Description

These capsules are reusable, eco-friendly and compatible with Nespresso® coffee machines. 

Don't think twice! Save money and help take care of the planet!


You will be surprised how good and creamy the coffee is!

*This capsule is Compatible with Nespresso Coffee Machine after 2010, but it isn't compatible for Dolce Gusto / Nespresso C150 / Nespresso Business.

How to use

*It's important to use them with the correct amount of coffee (about 6 to 7g, (5g/spoon) and also pay attention to grind which can neither be too coarse nor too fine. Please try a few times to finally find the correct one .

Reviews