Description
Best Adjustable Organizer Racks - Ultimate Storage Solution!
Transform Your Space with the Ultimate Adjustable Organizer Rack!
Are you tired of the chaotic mess in your home or office?
Is your refrigerator cluttered, making it hard to find what you need?
We have the perfect solution for you: The Adjustable Organizer Rack.
Benefits of Owning the Adjustable Organizer Rack:
Space-Saving Design: These adjustable storage shelves save space, ensuring you utilize every inch efficiently.
Freshness Like Never Before: Organize your food items, ensuring they remain fresher for longer.
Versatility at Its Best: Ideal for refrigerators, freezers, tables, desks, and cabinets. The possibilities are endless!
Easy Access: The retractable sliding design ensures you can easily access items, enhancing convenience.
Ventilation and Drainage: Maintains air permeability, increasing the anti-bacterial property inside your refrigerator. Plus, it's easy to clean and dry!
More Benefits:
Anti-Disorder Tool: Place it under tables to store small items, ensuring a tidy space.
Decorative Element: Not just functional, it adds an aesthetic touch to your space.
Thinking of the perfect way to organize and declutter? Why wait? The Adjustable Organizer Rack is the answer to all your storage problems.
Specifications:
| Feature | Description |
| --- | --- |
| Size | Adjustable to fit various spaces |
| Colors | White, Black, Grey |
| Weight | Lightweight yet sturdy |
| Package Includes | 1x Adjustable Organizer Rack, User Manual |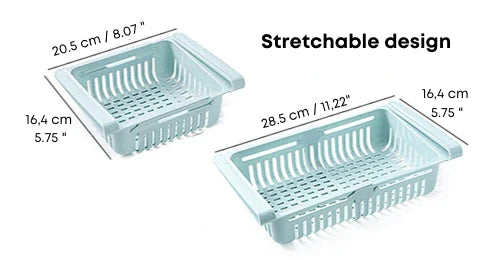 ORDER NOW and Transform Your Space!
Shipping Time: Orders are processed within 24 hours, and shipping takes 2-5 business days.
Additional Information
| | |
| --- | --- |
| Type | Blue, Light - Blue, White, Pink, Light -Pink, Green, Beige |
| Pack | Basic (3 Pcs.), Large (6 Pcs.) - BEST DEAL |

Best Adjustable Organizer Racks - Ultimate Storage Solution!