$54.00

|

$81.00

$54.00

|

$81.00

$54.00

|

$81.00

$54.00

|

$81.00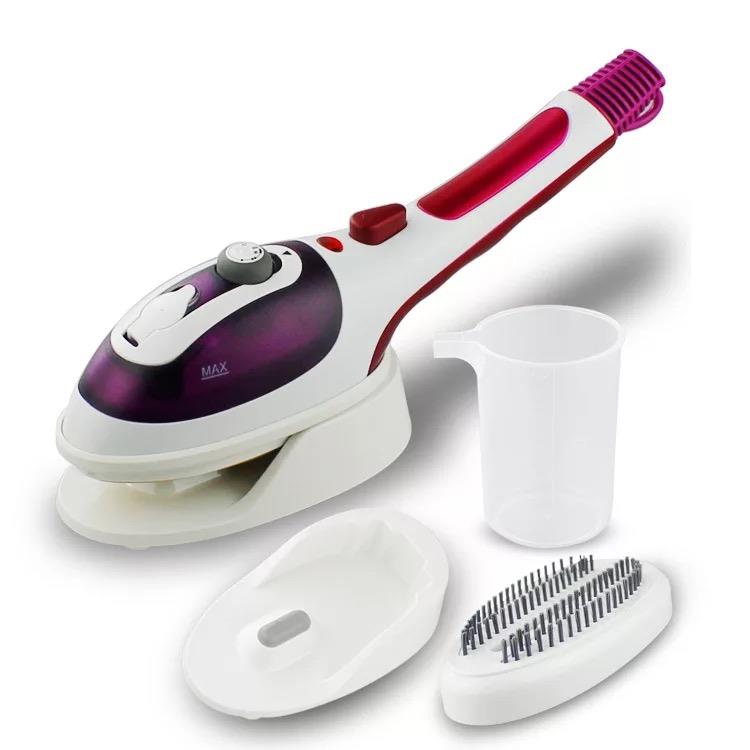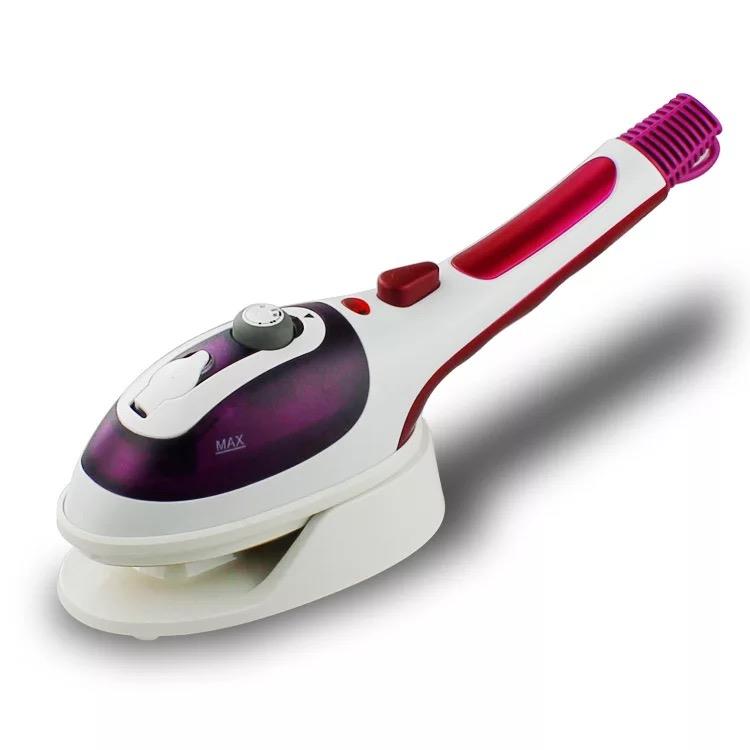 Portable Steam Iron
♥ POWERFUL & CONVENIENT: It can be used as a steamer and iron, either fabric lying flat which is convenient for any clothes or vertically hanging which is convenient for removing wrinkles from curtains and drapes or freshening up hard to iron steamers.
♥ HOW TO USE: Firstly, you need to add the water in the tank(180ML) not more than the max line or it will leak or spoil when you ironing. Secondly, adjust the temperature dial to the max, then the working light turned red. After the working light turned off, you can adjust the temperature to what you want, there has three settings, so them you can press the steamer button, and begin working.
♥ MINI PORTABLE FOR TRAVEL: Delicate and smooth design, perfect for home or travel, perfectly into a suitcase while traveling. One bristle brush and one linen brush, assemble the brushes with the soleplate and 180ml measuring cup to give you the best experience.
♥ WARM TIPS: Firstly, please don't add the water over the Max line, or it will leak and after you have used it out, make the tank dry. Secondly, when you first use the steam, if it was not steam, maybe the air has blocked the tank, so you need to press it quickly exhausts the air.

No ironing board, just add water over 50 seconds, you can spray high-pressure steam. With ironing, dry cleaning, to static electricity, disinfection, to hair ball, remove to oil and other functions.
Its large transparent water tank, water injection is more convenient; shell with plastic high temperature resistant material structure, use safely.
The product comes with a removable bottom brush and then with the brush of the strong steam enough to nail velvet, cashmere, knitted fabric of the hair, dust, odor, etc. to clean;
As a result of the use of high temperature and high pressure washing, but also disinfection, sterilization, and can penetrate the clothing fiber, the rapid return of clothing elasticity, will not burn any fabric.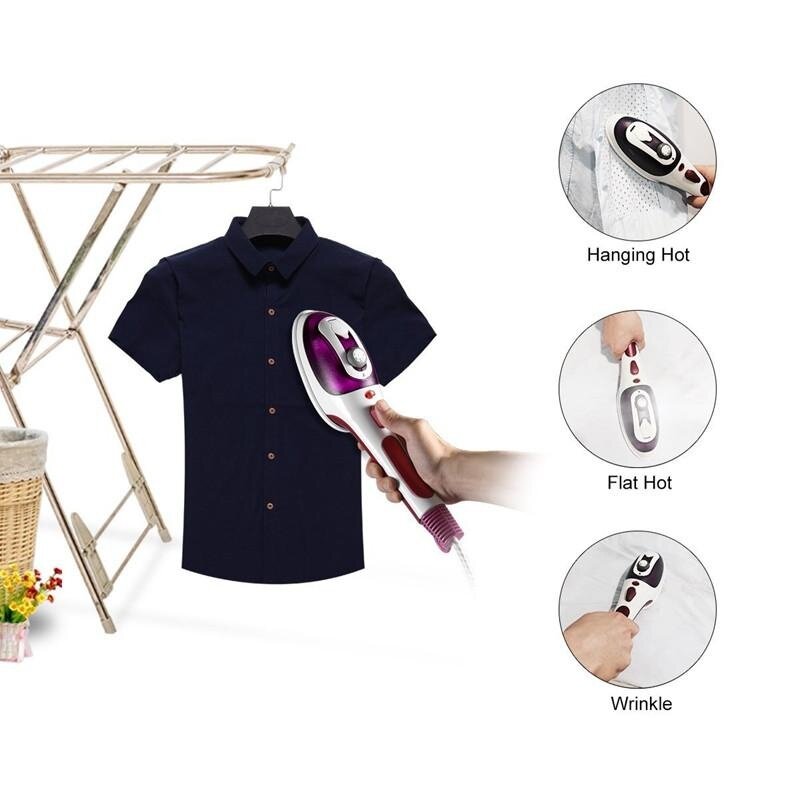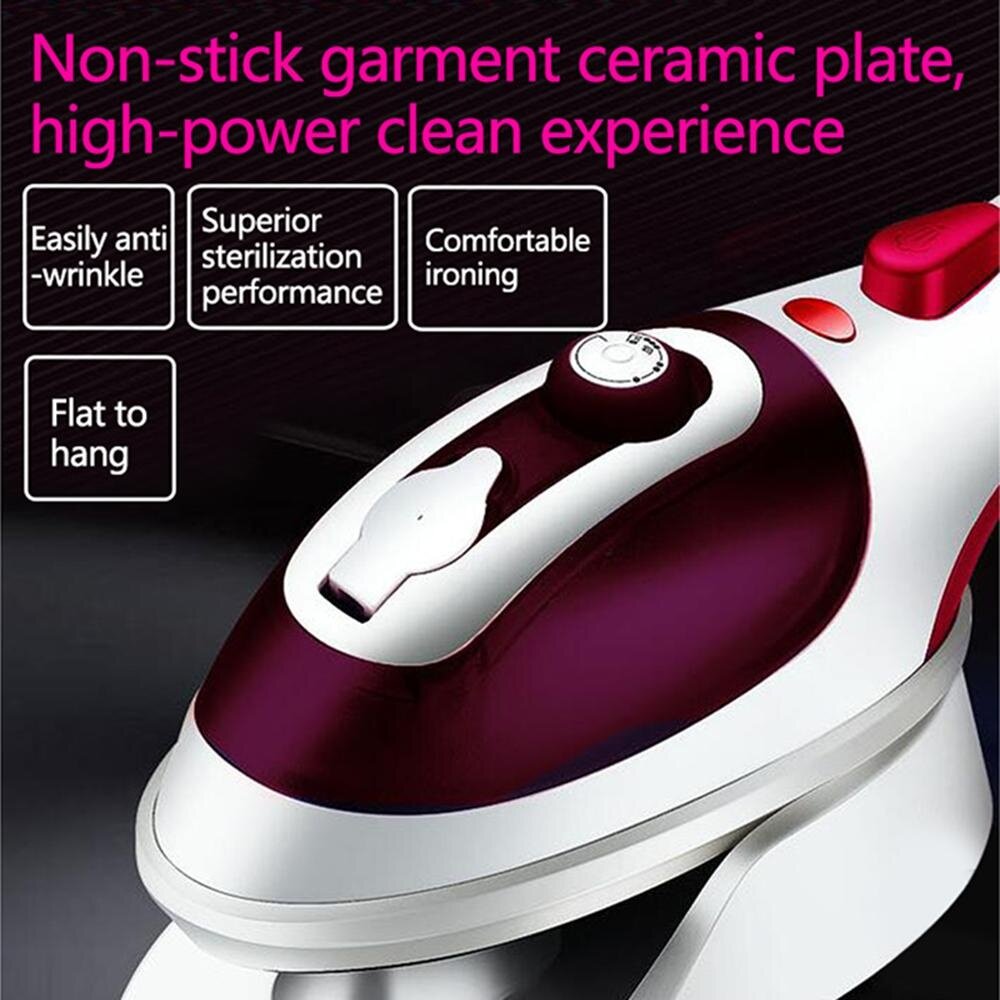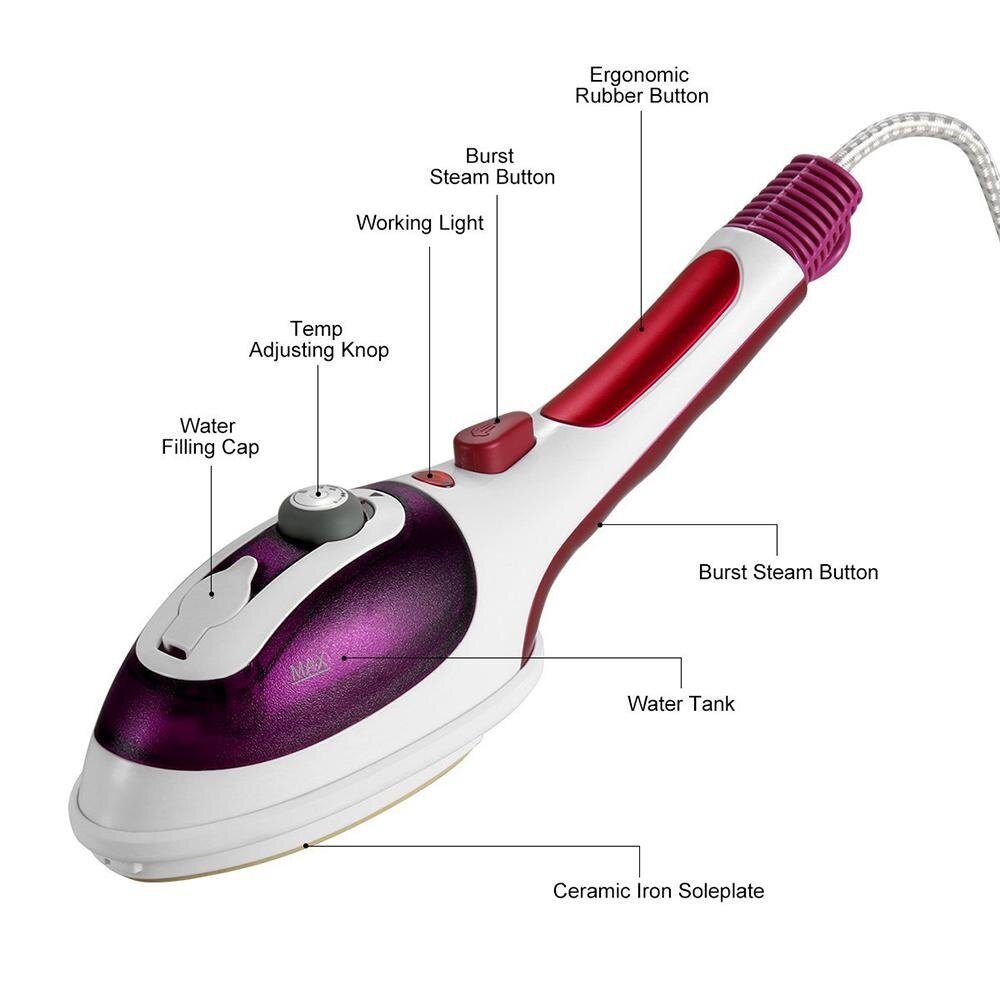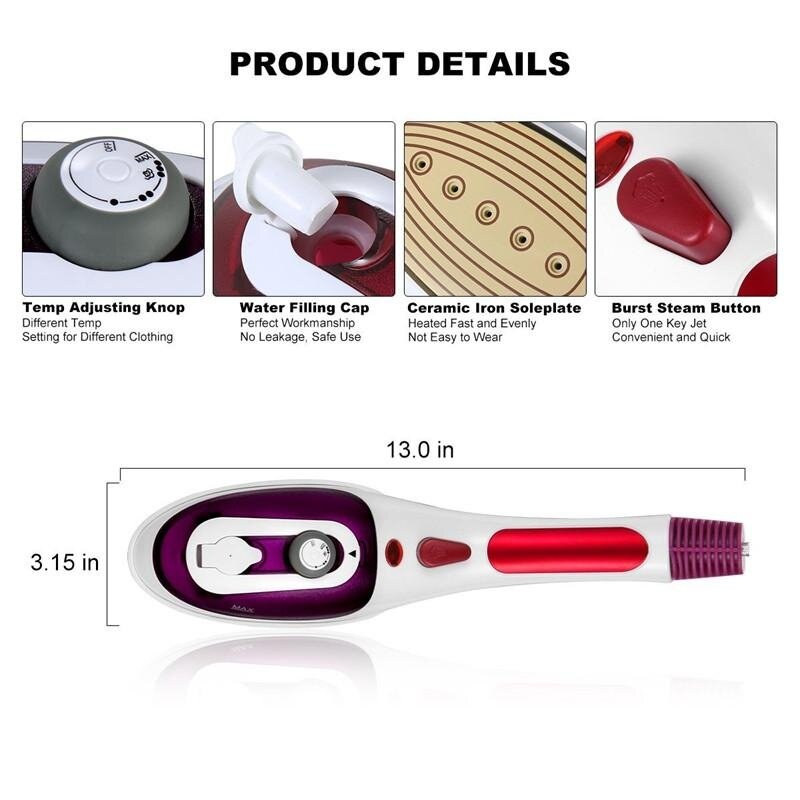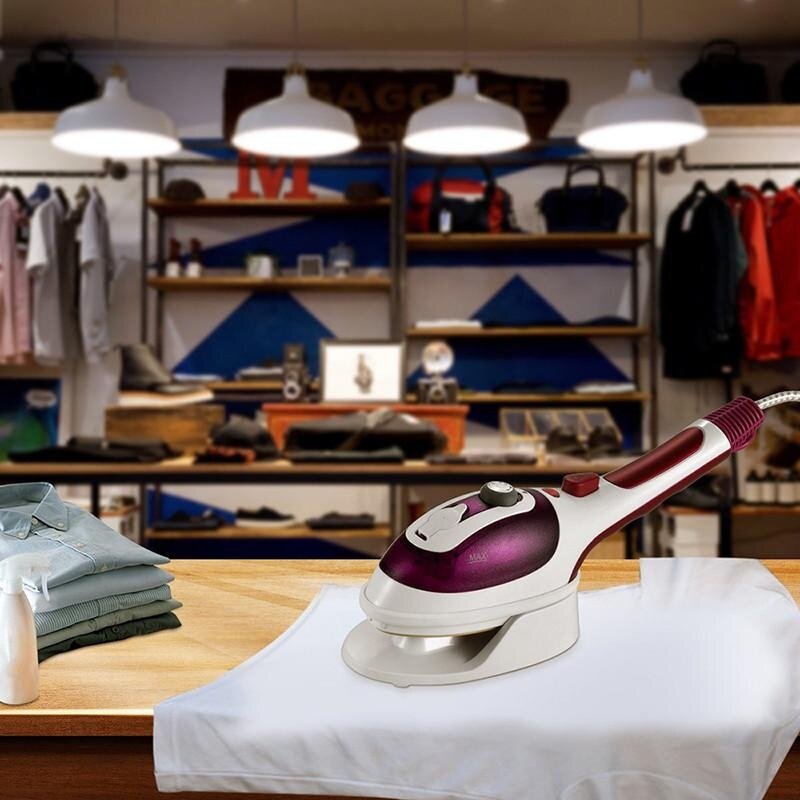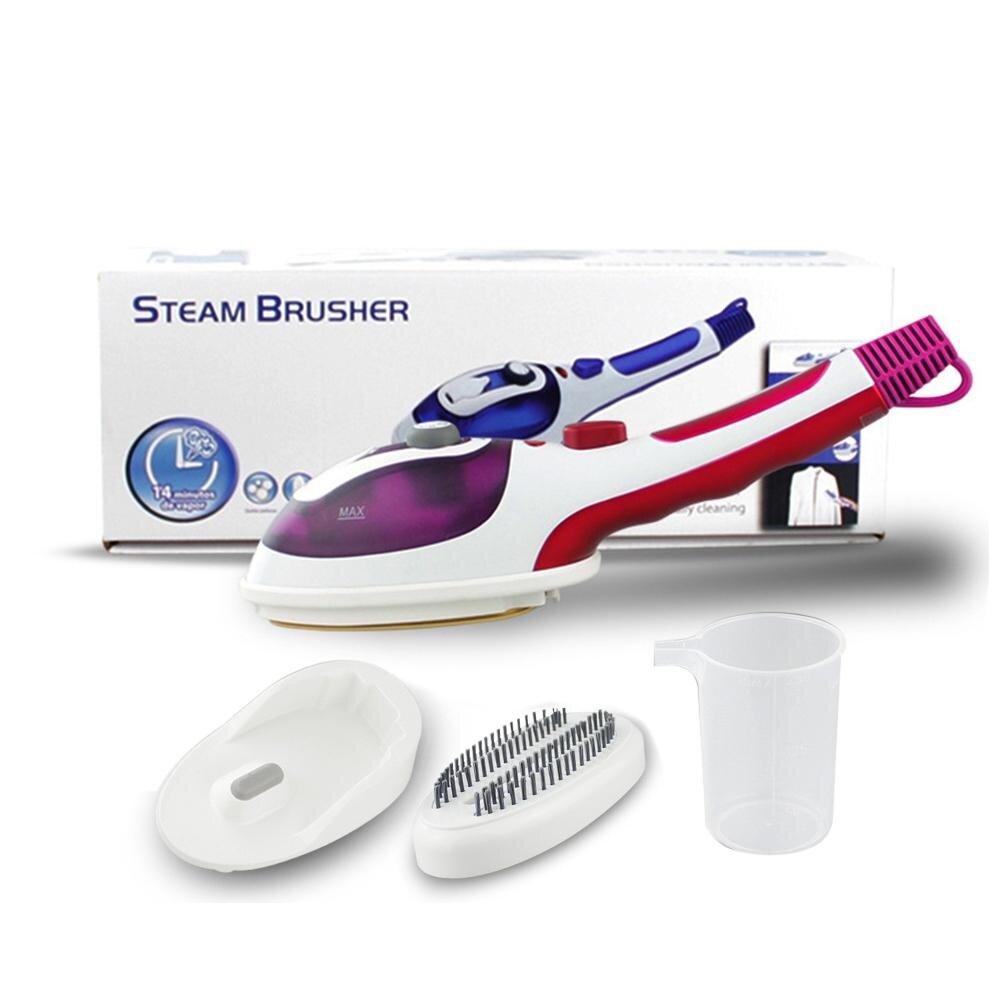 Portable steamer
Description

 

 

Portable Steam Iron

♥ POWERFUL & CONVENIENT: It can be used as a steamer and iron, either fabric lying flat which is convenient for any clothes or vertically hanging which is convenient for removing wrinkles from curtains and drapes or freshening up hard to iron steamers.
♥ HOW TO USE: Firstly, you need to add the water in the tank(180ML) not more than the max line or it will leak or spoil when you ironing. Secondly, adjust the temperature dial to the max, then the working light turned red. After the working light turned off, you can adjust the temperature to what you want, there has three settings, so them you can press the steamer button, and begin working.
♥ MINI PORTABLE FOR TRAVEL: Delicate and smooth design, perfect for home or travel, perfectly into a suitcase while traveling. One bristle brush and one linen brush, assemble the brushes with the soleplate and 180ml measuring cup to give you the best experience.
♥ WARM TIPS: Firstly, please don't add the water over the Max line, or it will leak and after you have used it out, make the tank dry. Secondly, when you first use the steam, if it was not steam, maybe the air has blocked the tank, so you need to press it quickly exhausts the air.


No ironing board, just add water over 50 seconds, you can spray high-pressure steam. With ironing, dry cleaning, to static electricity, disinfection, to hair ball, remove to oil and other functions.
Its large transparent water tank, water injection is more convenient; shell with plastic high temperature resistant material structure, use safely.
The product comes with a removable bottom brush and then with the brush of the strong steam enough to nail velvet, cashmere, knitted fabric of the hair, dust, odor, etc. to clean;
As a result of the use of high temperature and high pressure washing, but also disinfection, sterilization, and can penetrate the clothing fiber, the rapid return of clothing elasticity, will not burn any fabric.











Reviews